Thanks to our customers and parents, we doubled our cookie sales this year (over 2,000 boxes) making it the largest order placed for our troops!!!
2014-2015 Scouting Season
Hello and welcome to our website! Our program consists of Daisies, Brownies, Juniors and Cadettes in Capitol Heights, MD under the leadership of Ms. Quiana Johnson and Mrs. Erica McCollum. We have loads of fun with arts and crafts, trips, workshops, cookies, and learning how to be leaders. We hope you enjoy our site and are encouraged to join us. To register, please visit the Girl Scout Council of the Nations Capitol website: Girl Scouts!
View: First Lady Michelle Obama Supports Girl Scouts
A glimpse of our 2014-2015 Scouting year!! Service Unit SHARE Dance, delivering food baskets to the Clinton Community, decorating Christmas Cookies at St. Pius X Knights of Columbus, dance/cheer clinic with George Mason University at the Patriot Center (our scouts were some of many who performed at the women's half-time game show) and troop trip to New York City!
Our Cadettes had a big year...Six of our Cadettes earned their Program Aide Award and one of our Cadettes earned top seller for Fall Product Sales from our Service Unit.
A look at our 2013-2014 Scouting Year
Junior Troop 4727 Earned their 2014 Bronze Award helping sheltered animals at the Prince George's County Animal Shelter.

Khallelah M. Angela J. Elizabeth H.

bridging to Cadette Troop 5331

Elizabeth H.

Angela J.

Aryaun S.

Ashleigh M.
A BIG Thank you to our family and friends for helping us with our yard sale and donating items for our cause.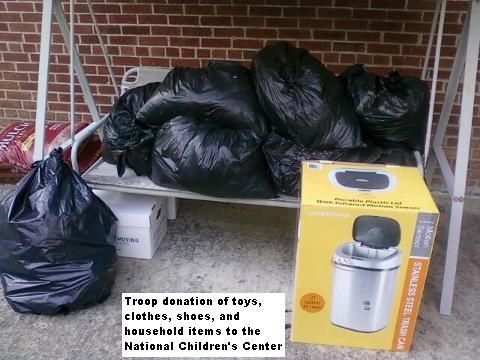 Troop visit an Amish

Schoolhouse in Lancaster PA

@ an Amish Farmhouse in PA


Troop at M&M Opera in the Outfield

Troop Trip to Hershey Park 2014


Cadettes with Rosa Parks

at Madame Tussauds

First: Picture: Troop with Nutcracker Actors. Second Picture: Junior Amuse:

"Action, Take 1!"


First Booth Sale of 2014